If you manage an Airbnb or any vacation rental bathroom amenities are important. These Airbnb bathroom essentials consistently get me 5-star reviews. My guests often comment about my extras even if they don't use them. With all the extras guests feel like they are getting the best experience possible on their vacation.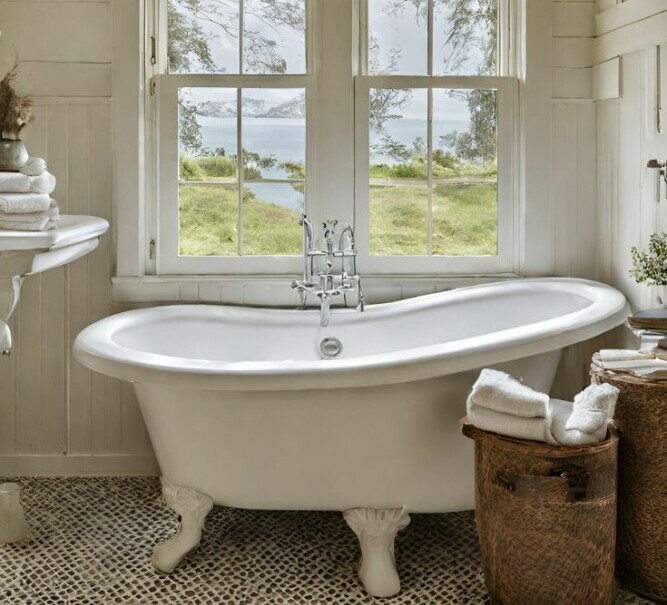 Disclaimer: Some of the links are affiliate links. If you click on one of my links and buy a product I get a small commission at no extra cost to you. If you do use one of my links I greatly appreciate the support!
Must-Have Airbnb Bathroom Essentials 
No matter if your property is a luxury or an economy property these are must-haves Airbnb bathroom essentials for all bathrooms.
Toilet paper – no single-ply toilet paper. Luxury rentals should be top-of-the-line toilet paper. But for the average vacation rental decent toilet paper will make all guests happy. Make sure to have extra. Not 2 rolls per bathroom. Don't skimp on toilet paper!! I stayed at an Airbnb recently and they had single-ply toilet paper and limited it to two rolls per bathroom. We ended up having to make a store run because of how little toilet paper was available.

Hand soap – you can refill regular hand soap containers. I prefer buying hand soap dispensers and then buying whatever hand soap is on sale in bulk. Having matching hand soap dispensers throughout the property gives your place a high-end look for very cheap. The linked containers are plastic (safer than glass) and dark colored. The dark color makes it easier to mix different colored soaps. Buy whatever hand soap is on sale to refill the dispensers.

Towels – This is another one of my pet peeves. Hosts who leave 1 towel per guest. Hosts expect guests to use it for the whole weekend or worse a whole week. Leave out several towels per guest. Better yet leave a closet open for them with extra towels. Many people get their towels from Sam's Club or Costco. I prefer quick-dry towels from Meijer but that's only available in a few states. The towels linked are from Amazon and work fine but if you are part of a Sam's Club, Costco, or have a Meijer in your state I would recommend looking there instead.

Washcloths – These are cheap to buy in bulk and frequently used. Plan on replacing washcloths often. They will get stained and ripped. leave enough out so each guest has at least two for their stay and more if they are staying longer than a couple of days.

Trashcan – I prefer ones with lids.

Trashbags – bags in the bottom of the trashcan make it easy to replace when needed.

Toilet plunger and toilet brush – A plunger can prevent a midnight call due to a plugged toilet.

Bath mat – A small square towel works well. Square towels are easier to wash and usually fairly cheap. But if you are worried about someone slipping a washable bath mat can be a better choice.

Mirror – Unless there are mirrors in every other room put a mirror in the bathroom. If you can add mirrors to bedrooms this is incredibly helpful when you have a house full of people trying to get ready. Doesn't have to be fancy just make sure there is a mirror in the bathroom. I include this because I stayed at an Airbnb with no bathroom mirror. There was one in the half bath. It made getting ready with several people there difficult.
Highly Suggested Airbnb Bathroom Essentials 
Even though most hosts won't consider these items Airbnb bathroom essentials I do. I highly suggest having these available for your guests.
Hair dryer – This is not expensive and so convenient for a guest to have access to. It's an often forgotten item. Several guests have told me they were so glad there was one to use. I keep one in every bathroom.

Makeup Washcloths – black washcloths will save your cleaner so much time. Guests love them and it prevents regular washcloths from being ruined. Also, can prevent towels from being ruined. These are absolutely worth it!

Shampoo, Condition, and Bodywash – These don't get used as often as you think they would. Guests tend to prefer their own products but the guests who forget these always rave about it being available. A wall dispenser works great on flat walls and is a great space saver. Some glue on and some use screws. Refillable containers like this work great if you don't have flat walls to hand a dispenser on or prefer not to mount one to the wall. Writing can eventually scrape off the refillable containers. I made new ones myself but you can also buy new labels on Amazon or Etsy. Refill with bulk containers between stays and guests will love it.
Extras Airbnb Bathroom Amenities That Guests LOVE
Even though technically these are not Airbnb bathroom essentials these items are worth it. Your guests will appreciate these items and are much more likely to give you 5-star reviews because of them.
Toothbrush and Toothpaste – are forgotten all the time. Individually wrapped toothbrushes and small toothpaste are great for guests. Guests have mentioned this in the public reviews many times and love it.

Bandaids – These are something most people don't pack but occasionally need. They are individually wrapped and you can pick them up cheap at any grocery store.

Triple antibiotic packs – These come in handy for any scrapes or cuts.

Anit-itch cream packs – These people will occasionally take for hiking. Bug bites in the woods are inevitable. They are especially nice to have on hand if someone comes in contact with poison oak or poison ivy. If your vacation rental is in the city this one is probably not necessary.

Antacids and Ibuprofen – I buy the anti-acids and a pain reliever in individually wrapped packages and put a few out in the bathroom cabinet. Guests have messaged me to tell me how much they appreciate this. Not every host likes to have something like this available but after several years there has never been a problem. It is out of the reach of children, and guests have appreciated it so much I'll continue to have it available to my guests.

Tampons – If you have space in a bathroom this is so nice for guests. Buy in bulk to keep the price down and put a few in the bathroom for guests. When they are on sale I buy a couple and have supplies for a long time. Having this available at a rental my friends and I stayed at convinced me to put them in my Airbnb. It was so convenient and made things less stressful.
The extras may seem over the top but for a guest, it makes all the difference. This can prevent a late-night store run. The total price over a year for the extras is typically recouped by guests giving 5-star reviews, recommending your rental, or returning to stay with you again.
I have had guests ask what other properties I own or manage because they wanted to stay with me again. Not only is it great for your property, but the reputation you gain for being an amazing host can boost all your properties.
Provide as Much Value as Possible
Think of things from a guest's perspective. Stay at your property for a few days or better yet a few weeks. This will help you decide what Airbnb bathroom essentials your property truly needs. What could be convenient to have at the property? How long will people possibly stay? What is available at close by stores? If you truly focus on making your guest's stay as amazing as possible guests realize that.
These items will increase the cost of your Airbnb. But the cost isn't as expensive as many think. I find that for each stay to cover the extra items people use and to have my cleaner restock it costs me about $15-$20 extra a satay. What area you are in will also determine the cost. You can also just increase your nightly rate by a few dollars. Even a five-dollar increase, depending on your occupancy, can easily cover the cost of items used.
Try not to up the price more than you need to. Guests who feel like you are providing great value give amazing reviews and can become some of your greatest advertisers for free. This helps make you a five-star host with a profitable property.
Thank-You
Thanks for checking out my article. If you have any ideas on Airbnb bathroom essentials or hosting tips I would love to hear them in the comments. I am always looking for ways to improve my properties!
If this was helpful to you at all please pin or share it on social media! It helps an unbelievable amount if you do!
Want to make sure you have everything for your kitchen? Check out my article on kitchen amenities.