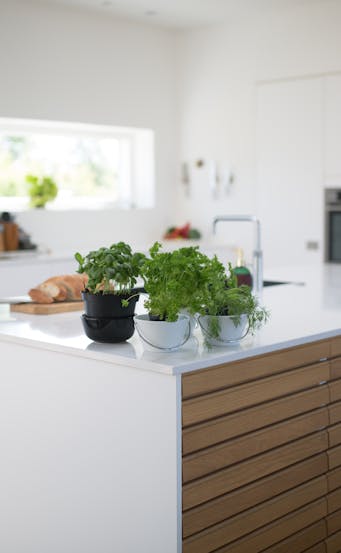 ‍
Image Source: Pexels
‍Providing a comfortable space for your guests is critical as an Airbnb host. This ensures your guests are happy and helps you receive more positive reviews. Many guests choose an Airbnb over a hotel because of access to the kitchen. These are some Airbnb kitchen essentials I think every host should provide and ones that make my guests happy.
Why Airbnb kitchen essentials are important for hosting success
Guests should feel comfortable during their stay. Providing them with all the necessary kitchen essentials is one way to do this. Having a well-stocked kitchen is one of the top priorities for my guests. The ability to make their own meals and snacks can save your guest money. I find this increases the chances of them booking with me again. Also, an Airbnb with all the kitchen essentials will stand out from all the others.
Knowing exactly what to provide can be a little overwhelming. I have made a list of many of my kitchen items and provided links to buy them.
Disclaimer: Some of the links are affiliate links. If you click on one of my links and buy a product I get a small commission at no extra cost to you. If you do use one of my links I greatly appreciate the support!
Basic Airbnb kitchen essentials every host should have
There are some basic kitchen essentials that every Airbnb host should have to ensure guests have a great stay. This list does get a little long but guests will love your kitchen if you include these things:
Cookware and Bakeware
Having everything for cooking and baking is essential for a guest. This list can be expanded on but make sure to start out with:
Make sure to have a variety of pots and pans in different sizes. I have this Blue Diamond cookware. I also have a large pot and a large stainless steel pan.
Baking sheets

You can do flat baking sheets but baking sheets with an edge give guests the option to make sheet pan meals or a variety of other meals and not risk juices dripping off the edge. If you want to add some extra you can always get a package deal like this one

. I was surprised by the amount of people who use the pizza pan and small square pan.

Baking dish

Having at least one that is close to a 9×13 is great because it can be used for a wide variety of dishes. I have a few options for ceramic baking dishes. But if you are on a tight budget something like this can work just fine too.

Muffin tins

I didn't think a muffin tin would be an item guests would use. But I was wrong and I had a guests request it. The whole trip was a birthday surprise for a friend and they wanted to make cupcakes. Now I always make sure to include a muffin tin.

Measuring cups and spoons

Something to measure is pretty important when baking.

Colander

Anyone making a pasta dish will thank you for this. These collapsable ones work great and save space.

Mixing bowls

Plain mixing bowls are fine and cheaper. I do prefer ones with a lid so they double as storage containers. Here is a set with lids also.

People are going to be enjoying themselves and a few drinks. I realize the wine opener has a bottle opener on the top but save yourself some trouble and get a few cheap bottle openers. People don't always realize the top of the wine opener is for bottles. After a few guests asked about bottle openers I gave up and got some cheap ones to go along with the wine opener.

Storage containers

I got this brand on sale for a good price and guests love them. Although guests maybe like them a little too much. They occasionally disappear or get broken. So go with a cheaper option and replace it as needed.

Cutting board

The beautiful wood ones look lovely but I find keeping flexible plastic cutting boards easier to clean. Also, they are cheaper and easy to replace when needed.
Utensils
It's important to have enough utensils for all your guests and for cooking. There are also a few extras that you may not think about but are great to have in addition to basic utensils.
Dishes and glassware
Glassware

This should be at least double the amount of your max number of guests or more. Also, make sure the glassware is dishwasher safe.

Plates and bowels

Again this should be at least double the amount of your max number of guests

Mugs

Depending on space this one may not need to be doubled. But have at least one for each guest

Wine glasses

This one may depend on where you are. If you have a rental near wineries and it is a major attraction having double your max number of guests is a good idea. In other areas, it will be fine to have the same number as max guests.
Coffee maker and tea kettle
Some hosts refuse to offer any of these amenities. It is an added cost but guests love it and constantly give 5-star ratings. This is one of the things that gets mentioned in the reviews constantly. It should really cost less than a few hundred dollars for an entire year's supplies of these items and the good reviews should help bring in more bookings to make that up.
Basic pantry items
Supplying a few pantry items that don't go bad makes cooking much easier for guests. Remembering every basic thing including salt and pepper is a pain when traveling. Make sure to provide guests with:
Salt and Pepper

Just a basic salt and pepper shaker. You can get these anywhere. I like glass ones so you can see how much is in the bottles. This makes it easier to see when they need to be refilled.

Spices Rack

This spice rack doesn't take up much space. I have it in a cabinet above the stove and guests have commented many times how much they appreciate it.

Oil

I always like to have olive oil or at least vegetable oil for guests to use.

Nonstick spray

For the sake of your pans get some nonstick spray!
These others are optional but can be helpful
 Flour

I like to keep this in an airtight sealable container that is labeled.

Sugar

As with the flour I also like to keep this in an airtight sealable container.
Kitchen appliances for Airbnb host
If you want to take your Airbnb kitchen to the next level, make sure to have these appliances.
 Slow cooker

My guests tend to go hiking or adventures during the day. A slow cooker is a must. This gets used all the time.

Griddle

Several guests have asked if there is a griddle. Many like to make pancakes or eggs and bacon while on vacation

Mixer

A stand mixer is nice. If you have room and the budget a stand mixer is preferable. No room, then get a hand-held mixer.

Blender

This doesn't get used as often but still a fair amount.

Toaster

Have a toaster that toasts bagels also. This does get used almost every time. Make sure to have the cleaner empty out the crumbs try. It can get forgotten about often.
These are optional but great if you have the space and budget
Air fryer
Immersion blender
Waffle maker
Maintaining and cleaning your Airbnb kitchen essentials
First, try to get good quality items. Not luxury fancy items but ones that are easy to use and durable. People don't always know how to properly care for items and kitchen items will get used often. Plan on replacing some items every few years.
Pots and pans will most likely only last a few years. The nonstick layers get scraped or something gets burnt on and a pan can't be cleaned. Plan on this and set a little money aside often for these things.
Make a cleaning checklist for the kitchen. Not only does this ensure you are not missing items but it helps your cleaner. List each item that needs to be checked individually. For example, clean coffee maker, tea kettle, single cup coffee maker and drip tray (this one gets missed often), clean toaster, and empty crumbs tray. Not only are your items getting checked and cleaned regularly they have the opportunity to see if anything is broken.
Where to purchase Airbnb kitchen essentials
If you need items right away you can go to Walmart or any big store and get the majority of your items.
I prefer ordering online and having the items delivered to the property or delivered to my house and ready to take to the property. Amazon and places like Wayfair are places I tend to do a lot of shopping. Looking back on my ordering history is a great way to find items that I liked and order again for another rental or to order a replacement.
Creating the best experience for Airbnb guests
One of the best pieces of advice I got for knowing what you need in your rental is to try staying there for a few weeks if possible. Cook your meals there. See what works and what doesn't. This greatly influenced what I got for my guests.
A well-equipped kitchen is one of the most important things in your Airbnb. This is something that keeps guests coming back and bookings high. Do not overlook the small things or try to skip them to save money. Guests will notice and leave it in a review. Guest leave reviews if they are really happy with a place or very disappointed. Make sure your guests feel like you went above and beyond for them and it will reflect in the reviews.
Anything on this list you didn't think of or something I missed? Leave me a comment and let me know! I am always looking for ways to improve my rentals.