What is driving for dollars? Driving for dollars is when you drive around a neighborhood (or walk) to find distressed properties and leads for real estate investing. Driving for dollars can be a great way to get inexpensive leads for real estate marketing. The leads can be used for direct mail marketing or cold calling.
How to Drive for Dollars
1. Pick A Neighborhood
Check real estate apps daily to learn about the neighborhood. I check several sites daily including Zillow, Realtor, Redfin, Trulia, Homesnap, Craigslist, and Facebook market place daily for sales. You can find a deal just by checking these sites daily but you also begin to learn the neighborhoods.
If you want to learn more about different neighborhoods read this article.
To find a neighborhood I like I watch for:
How fast properties sell in an area
How many houses are for sale in that area
What prices they sell for
The condition of the property
The size of the property and house
If the property is updated or dated
Number of bedrooms and bathroom
Once you find an area that is desirable and houses are moving quickly you know it is probably a good area to invest in. Now map out a route and jump in your vehicle and start driving (or get out and start walking).
2. Know What to Look For when Driving for Dollars
When driving or walking around, look for distressed properties. Watch for things such as: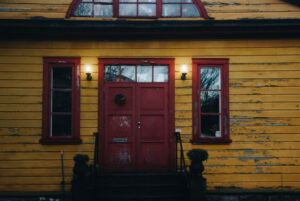 Overgrown grass
Boarded-up windows
Roof the need repaired
Siding going bad
Notices on the front door
A property you pass often that appears vacant
Junk in the yard
When you spot one of these properties stop and write down the address. If you are using an app to track your route mark it on the map. I mark them on google maps because I like to go back and look at an area and what houses I have selected there.
3. What to do When You Find a Property
Knock on the Door
Don't do this if there is a no soliciting sign on the property. You're not going to find someone interested and you will most likely make them upset. No sign present get up there and knock. This works well when walking around the neighborhood or simply stop the car and go knock on the door.
Don't tell the owner you think the house is a mess and you want to buy it at a discount. Explain to them you are a real estate investor who is interested in investing in the area. If they are interested in selling give them your contact info. Also, give them a few extra cards just in case they happen to think of someone who is looking to sell.
The Property is Vacant or you're Anti-Social and don't care to knock on a strangers door
I get it not everyone is social and outgoing or there is no one home. Write down the address and you can work on skip tracing (finding the owner and their contact info) later.
I like to use the county assessor website or county records. How I find some of these websites is type the county and real estate taxes search or county and real estate property owner search. Look through a few of the links that pop up. In some states, this information is private some it is easier to get.
If for anything you need a parcel number simply look on Zillow. Go to the bottom of "home facts" and it will give the parcel number.
Once you find the owner and their address and phone number send them a letter or give them a call.
Can't find county tax search try NETR Online
I recommend finding the local county tax information first but if you can't find information there try NETR online. The site is only occasionally useful but difficult to navigate to get to the right stop. There is also an area where you can pay for the info but that information isn't guaranteed to be correct. I would advise not using their paid service.
Finding a name to go with an address
Whitepages.com is an easy free website to get you the name of the current residents. It's not always correct but I have had pretty good luck with getting the right name for those who live at the property.
If the owners live at the property you have a name and address now you can send a letter. The property is vacant and your having trouble finding the address of the owner send a letter to the vacant property. The letter could get forwarded to the owner's current address or may get returned. If it gets returned look to see if they wrote the last known forwarding address on the letter. They only forward the mail for so long and it times out. You can then send a letter to the new address.
Hire a virtual assistant
There are different websites that you can hire a virtual assistant on. Upwork.com or Fiverr are good places to look. Most of the people on here work for pretty cheap. Cheaper is not always better and it may take going through a few people to find one who works out but once you find the right person they are worth their weight in gold.
Upwork is not the only site you to hire people from. There are several out there if you want to look for different options.
Regardless of what site you use start with a small list of addresses and test a few different workers. Have them do the skip tracing for the owner, owner's current address, and phone number. Test out the information and when you find someone good you can continue to use them over and over.
This is a method I plan to test out when I eventually get sick of skip tracing myself.
Sign up for a paid service online
There are a ton of services to help skip tracing online. Most require a subscription or pay per lead. It is hard to find a good service like this that is accurate. I have never tried any of these services since I have had good luck searching myself. If searching for information online doesn't sound like fun to you it may be worth your time to research one of these companies and try them out.
Just a disclaimer here I am not affiliated with any of these companies. I haven't tried any of them. If you try one or use one frequently please let me know in the comments. It would be great to get some info from people who have first-hand knowledge of any of these sites.
Here are a few you could look into and try:
Anywho
BeenVerified
Peoplefinders
Ussearch
Peoplesmart
Propertyshark
Landglide
Truthfinder
Skip genie
Summary
Driving for dollars is a great way to start looking for investment properties. For the cost of a few gallons of gas, you can get several leads. Skip tracing can be a little tricky but once you find your local county or city websites it gets much easier.
Even if you don't find a great property driving for dollars you learn the neighborhood. It helps you make decisions quicker and know a good deal when you see one.